YOGA THERAPIST
Katie A. Campbell C-RYT, C-IAYT, YA-CEP, E-RYT 500, CPR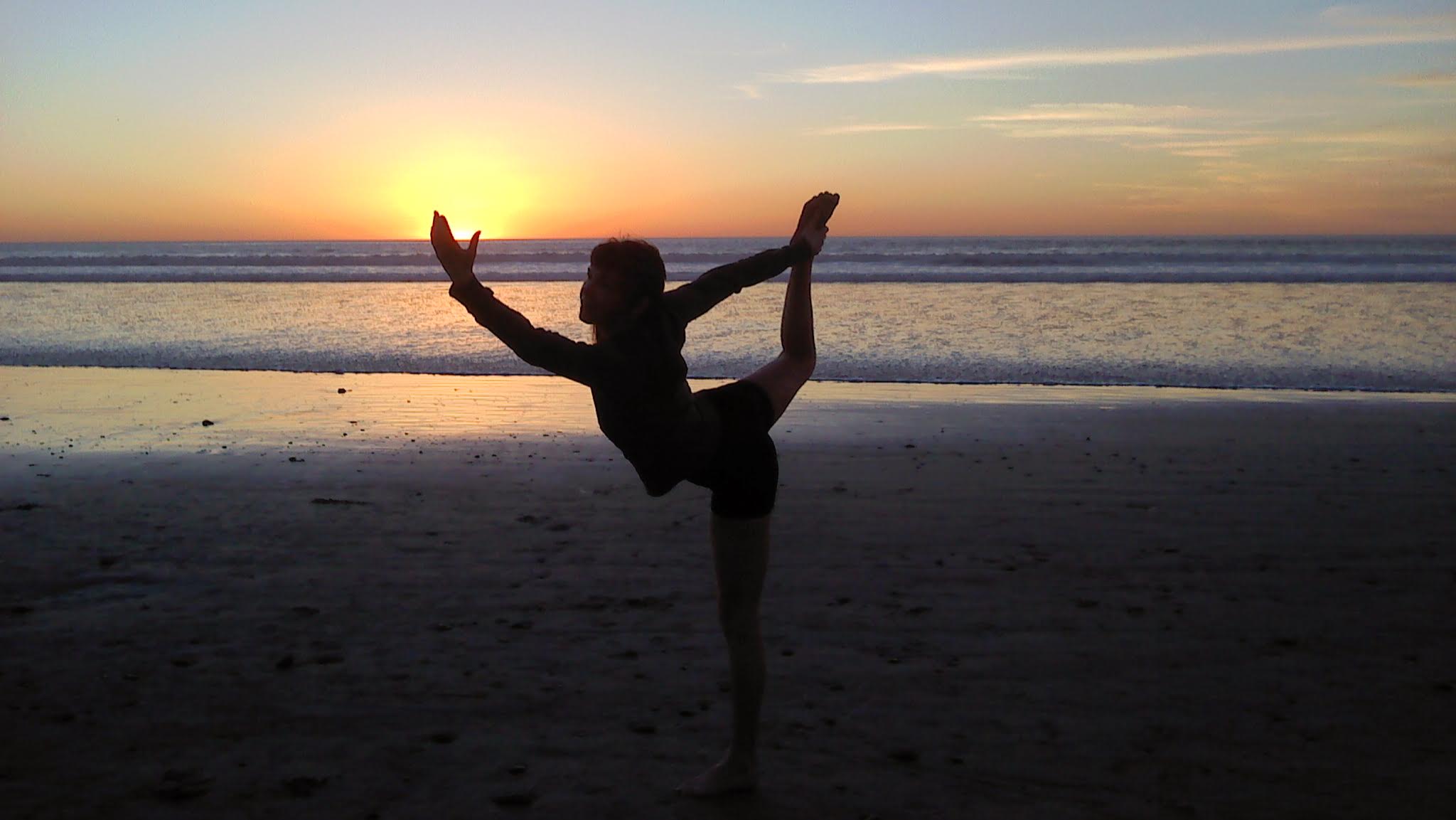 Natrajasana (Dancer Pose), San Diego US (2011)
Holistic Health Practitioner Certified by the International Association of Yoga Therapists is a Yoga Alliance (YA) Children's Registered Yoga Teacher (C-RYT), Continuing Education Provider (YA-CEP), and Experienced Registered Yoga Teacher (E-RYT 500) certified in Cardio Pulmonary Resuscitation (CPR). Celebrating life while perfecting peace, feeling blessed serving (seva) clients seeking the just rewards of yoga harmonizing principles of body, energy, mind, intellect, and spirit; protected from stress/suffering (dukha). Following a therepeutic five protections from illusion model (panca-maya-kosha).
Providing Therapy/Medicine, Prevention and Performance Sessions Fresh Food Options, Weekend Retreats, Outdoor Yoga Memberships and Continuing Education
for holistic health of Physical (anna-maya-kosha), emotional (prana-maya-kosha), mental (mano-maya-kosha), intelligent (vijna-maya-kosha) and blissful (ananda-maya-kosha) awareness (samadhi). Hybrid Sessions are mindful of Classical Eight Step (Ashtanga) and seven plexus (chakra) correlations with five energy systems of recylcing including a motto/affirmation/correlation (mantra/japa) of 'Movement is Medicine' with

intentions (sankalpa) of happy, healthy, powerful, wealthy and wise ways

. Please follow, like, and subscribe on the web (LINKS -Blogs, Registry, Social Media, Sponsors)

!
Center ethically with tenets (yamas) and precepts (niyamas), find movements (vinyasa) and poses (asana) for strength, balance, and flexibility with fresh recipes as fresh is best, boiled is better than baked, and never fried (80% compliance shows improvements); Breathe (pranayama), withdraw (pratyahara) from that which does not serve, focus (dharana) on your goals, meditate (dhyana) accomplishing your intentions (sankalpa), perfecting (samadhi) with practice! Clients are currently being accepted by appointment (CONTACT US/SCHEDULE AN APPOINTMENT) for certified therepeutic, confidential trainings (SPECIALS, SESSIONS, DESCRIPTIONS, & PRICING). Bliss be!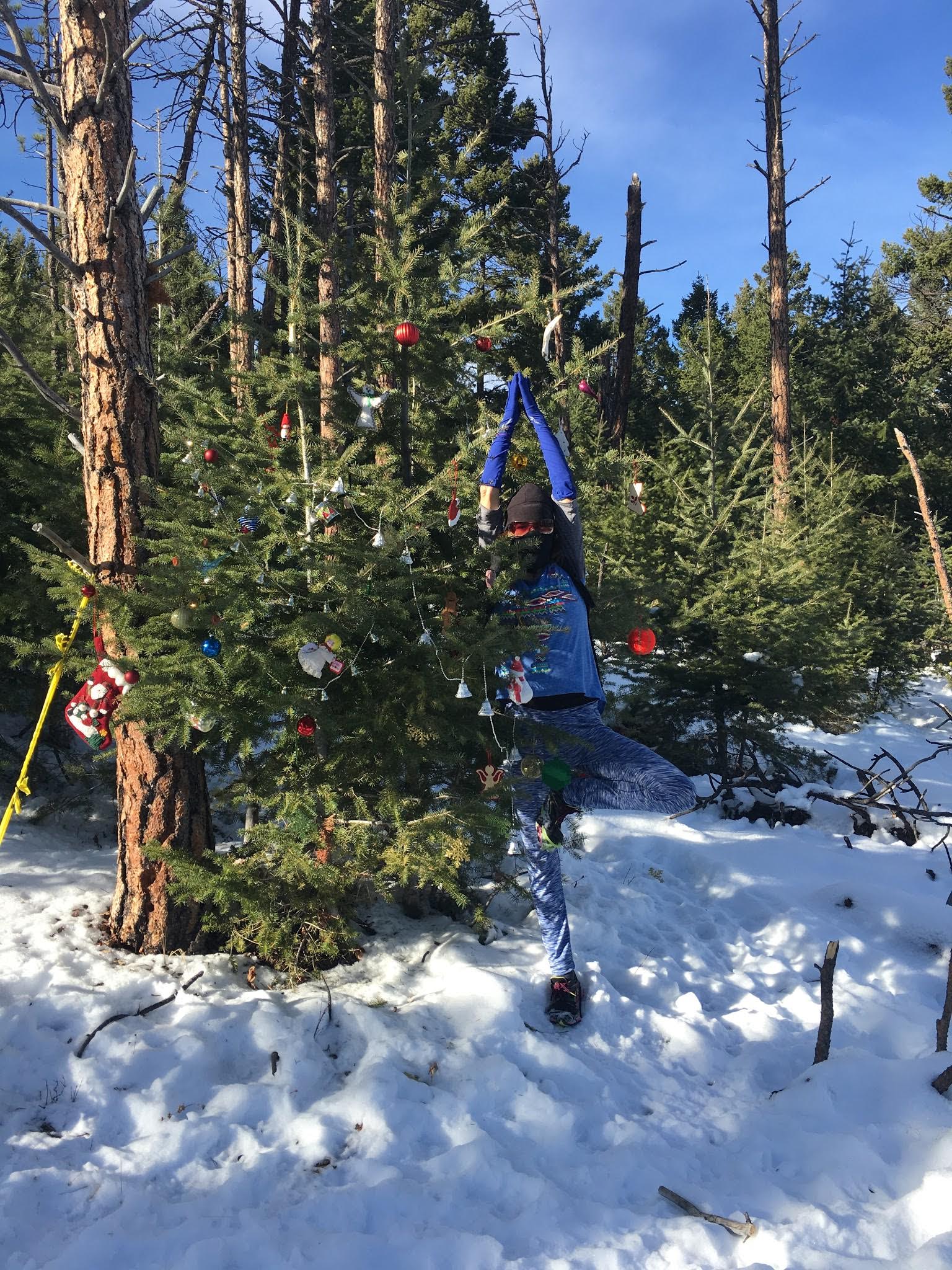 Tree Pose (Vrksasana) near a Prickly Pear Land Trust Trail, Helena MT US (2015)
Katie A. began a career specializing in Fitness and Recreation after graduating from University to integrate Fitness and Wellness (http://www.yogafit.com) teaching Yoga, becoming Certified as a Primary Group Exercise Instructor (http://www.afaa.com) and Personal Trainer (https://www.acefitness.org) guiding participants towards optimal health; health is the first wealth! She was an honor roll student, varsity athlete and voted "Most Inspirational Player" by teammates. Upon graduation from high school she began a career in Environmental Management.
Katie A. began teaching Yoga; volunteering with "at risk" youth while completing College courses including Medical Sociology and Health Psychology while working full-time. She continued volunteer efforts at a private preschool, public schools, and gives (dana) of YT(T) to environmental and Social Justice events. She holds Sessions by appointment for physical practice (hatha) catering to individual needs. Having studied abroad Katie A. certified in Classical Ashtanga Yoga with Applied Yogic Sciences from the Pranava Yogadhama Therapy, Research and Education Centre, Mysore India with Jaya Kumar Swamee Shree who was "licensed" by K. Pattabhi Jois.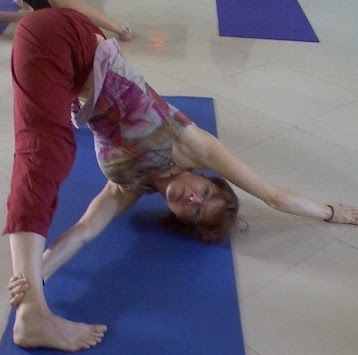 Revolved Standing Splits (Parivrtta Prasarita Padottanasana), Mysore IN (2008)
Grateful to have established Yoga Training (Touch), a licensed business, Katie A. has been an E-RYT 200. She transitioned work space, completed Restorative Training in Palm Springs (2010), and Therapy Trainings (2011) in San Diego, Atlanta and Seattle. Katie A. became an E-RYT 500 adding Therapy or Medicine specializations to the YT(T) Prevention and Performance Practice, See:
In 2014 YT(T) added a Personalized Retreat option for patrons ((FOOD, MEMBERSHIP, PERSONALIZED RETREAT) interested in weekend intensives. Through Yoga Alliance (https://www.yogaalliance.org/), a registry for yoga teachers she became a CEP in 2015 developing instructional content; known as an expert in her field.
Kathryn Certified with the International Association of Yoga Therapists (C-IAYT) in April of 2017 having submitted rigerous proof of work accomplishments. In December of 2018 Katie became a Children's Registered yoga Teacher (C-RYT). Time with Mom's with infants and toddlers, preschool aged children and bublicall educated elementary students, as well as private clients has been rewarding. Kathryn hopes her work as a Yoga Therapist will continue to be influenced by children; as a cooperative class agreed in answering the question, "What do you want to do when you grow up?" The unified response was, "I want to work for world peace!"
Kathryn (Katie) A. is grateful for the effects of yoga, thankful of her parent's gifts, friend's homes away from home, and to yogi practitioners everywhere. May we begin again, ever more aware (samadhi) of, harmonizing values of physical, emotional, mature, intelligent, bliss!
In hope of your safety amidst the COVD19 world unity project Kathryn passes on the World Health Organization (WHO) eight recomendations to: Stand 3 ft. away from other people, cough into your elbow, regularly wash hands (20 sec.), abstain from sugar drinks, alcohol and smoking, eat fresh foods and choose movement every thirty minutes throughout the day. Please follow this holistic health advice as you are able. Web Sessions are now available.
Please contact YT(T), a Home Studio & Personalized Retreat (CONTACT US/SCHEDULE AN APPOINTMENT) to participate!